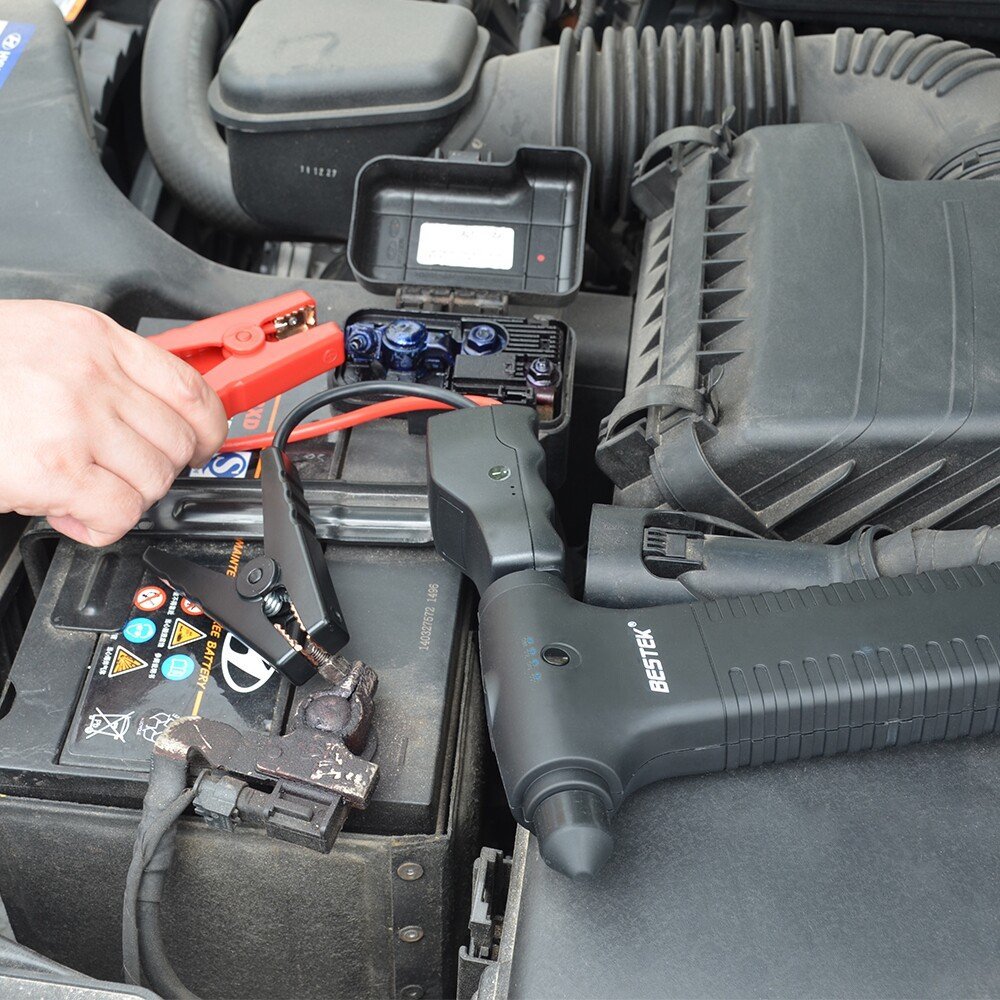 Along with teaching me how to drive, my grandfather taught me a few important lessons about how to avoid getting stranded in your vehicle. Years later, I still keep jumper cables in the back of my car "just in case" and I keep a bag of sand or kitty litter in the back during winter weather. The cables have come in handy for helping out a few people and the bag of kitty litter once gave me the traction needed to get my truck out of an icy ditch.
My only complaint about jumper cables is that they are bulky and take up a lot of space. A good alternative is something like the BESTEK compact jump starter which also works as a portable charger bank. It is small enough to fit in your glove compartment, but powerful enough to jumpstart 20 cars on a single charge.
BESTEK sent me a jump starter to try out and the 5-in-1 product can break through glass, contains a 11000mAh battery to jump start a 4L gas or 3L diesel engine, can charge portable electronic devices via a USB port, can power a compressor, and has an LED flashlight. Even with all of those features, it is small enough to fit in your glove compartment.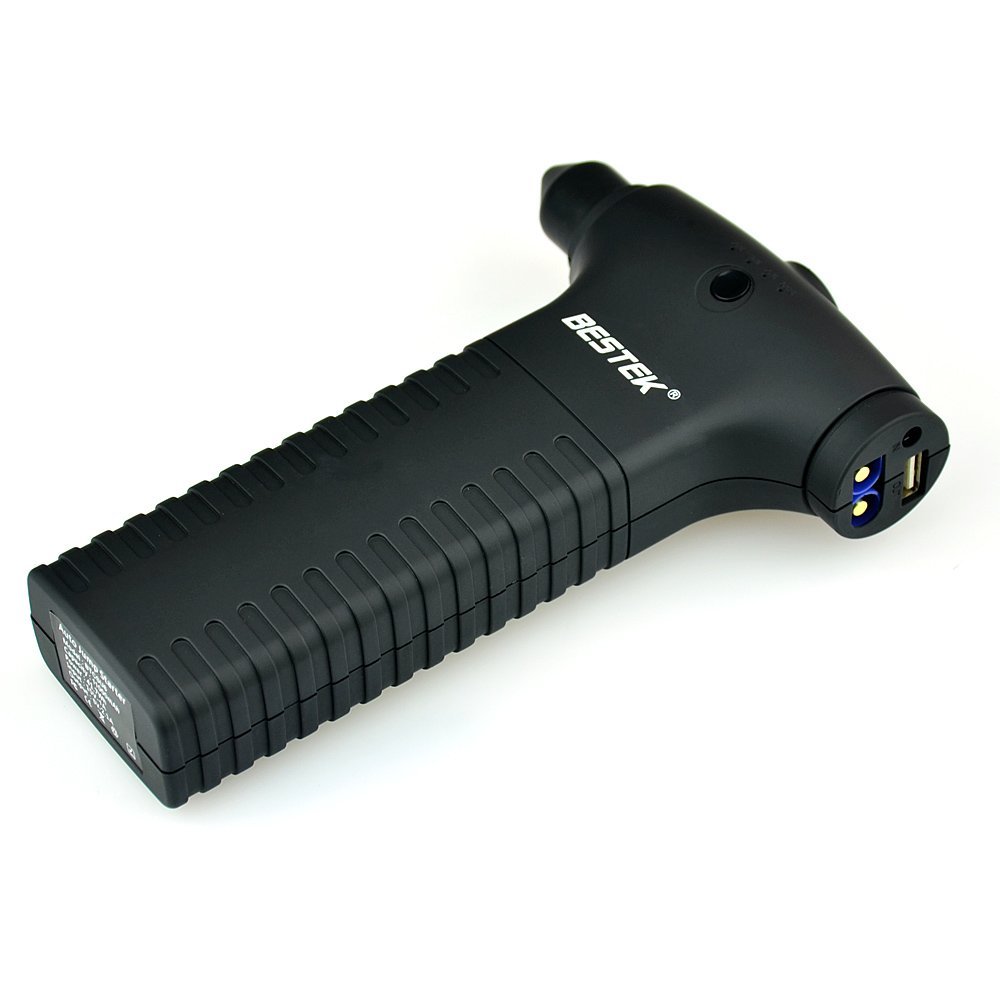 I found that it was very easy to use this product, which makes it ideal for even for someone with limited car knowledge. The best part was that it eliminates the need to keep bulky jumper cables in your vehicle and you can jump start your car on your own (you don't need a second vehicle like you would when using jumper cables).
Here are the steps:
Turn on the jump starter by pressing the power button and ensure the battery is charged over 25% (At least 1 LED light on)
Pull back the rubber flap covering the jumping port and connect the jumper cables provided with your unit. (The plug is shaped so you can't plug the cables in backwards) The red and green lights flash to confirm connection.
Connect the red clamp to the + battery terminal (red) and the black jumper clamp to a steady metal part of your car.
After 5 seconds the light turns green indicating you can start your vehicle.
Start your car.
Remove the jumper cables from the jump starter and/or disconnect the clamps from your battery.
While jumpstarting your car is the main reason to keep this in your vehicle, it is a 5-in-1 device that can do much more. It has a super bright white LED flashlight which could come in handy for changing tires or fixing minor issues at night. It can also be used to signal for help or as a warning device. The flashlight has three modes: regular, SOS, and strobe.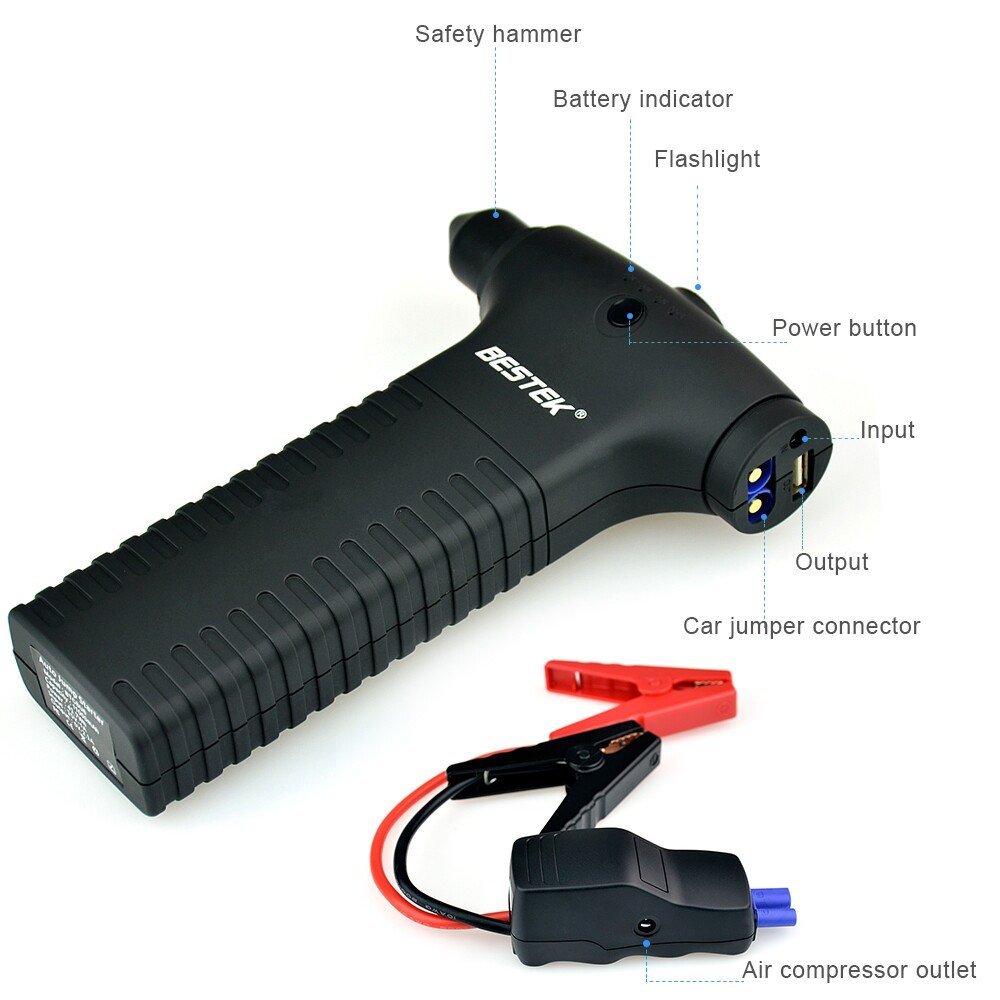 There is also a USB port that can be used to charge your devices like a cell phone. If you manage to get stranded somewhere this battery bank/charging feature will extend the amount of time you can use your phone. It is also great for letting your children charge their tablets or devices when you are on a road trip.
The  jump starter comes in a nice, compact box and includes the clamps/jumper cablers, a charger that fits into a 12 volt car outlet, and a standard wall plug charger. BESTEK says that this will hold a charge for 12 months, but recommends you give it a quick recharge every 6 months.
The BESTEK jump starter is a very useful device that doesn't take up much space in your car, which is why I recommend purchasing one. It is the ideal thing to keep in your trunk or glove box in case of emergency.